***
This 2010 season, marks Dollywood's 25th Anniversary, and
Sunday, May 23 was a fantastic, and exciting day!
If you were one of the lucky ones, who was able
to attend this James Rogers show at Showstreet Palace, I'm sure you agree!
James is the ONLY 'single entertainer' who has been performing for Dollywood
for the entire 25 years that Dollywood has been in existence,
AND
Dolly was in town!
She made a special appearance at James' first show of the day, to present him with a beautiful plaque,
to commemorate his 25 years with Dollywood.
Thanks so much, to Ralph Shell and Debbie Rogers for these very special photos!
You can click on each picture to see a larger view.
Dolly also sung "Rocky Top" with James, and as you can see from these photos, they were having some fun!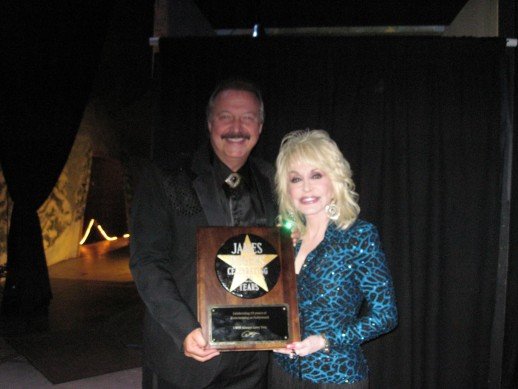 If you have pictures of this special day, and would like to share them with us, please send them in.
I would be happy to add them, and I'm sure that the friends of James Rogers would enjoy seeing them all!

Music playing is James' "Tennessee" from his instrumental album "Summer Dreams".
Music file is compressed for internet use, and shorter download time, so is not best quality sound.
Please visit James' website or attend his shows and purchase his music.
*********