Alzheimers Fundraiser At The Island
Pigeon Forge, TN
November 6, 2020
*****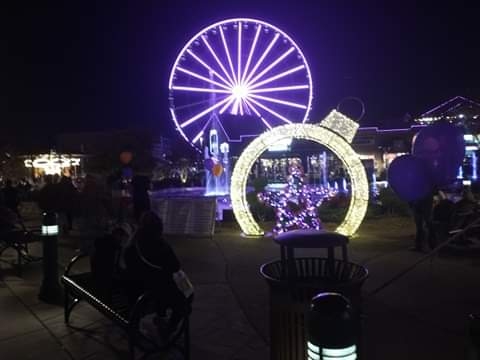 Below is an article from the Mountain Press about James' fabulous song "Find The Way",
and the ceremony at the Island in Pigeon Forge, TN
*****
The Mountain Press
Find the Way: an anthem on Alzheimer's
By CINDY SIMPSON
Editor
Oct 28
PIGEON FORGE
The song "Find the Way" expresses the heart-wrenching life of those who are experiencing Alzheimer's or watching a loved one go through it.
Songwriter James Rogers, who performed at and was an owner of Music Mansion in Pigeon Forge, wrote the song in honor of his father, Hershel Rogers, who he watched decline as he suffered with the disease. Today, the song is an integral part of Alzheimer's Tennessee's annual fundraiser in Sevier County, which will be held this year on Friday, Nov. 6, at The Island in Pigeon Forge.
"I'm honored that it seems to resonate with people because they can hear in the words this is somebody who really understands.
The person who wrote this song isn't just fishing for words — they really understand," Rogers said.
Rogers will be at the Nov. 6 event, which is called Family Fun Night and Walk to Make Alzheimer's a Memory.
While he won't be performing his song, he'll be there when it's played as part of the ceremony. Elements of The Island will be lit up purple in recognition of Alzheimer's.
He looks forward to seeing a lot of old friends, but he knows it will be different with concerns about COVID-19.
"We'll have to be mindful of the pandemic. It will be hard not to give hugs and stuff to the people I dearly love," Rogers said.
Rogers wrote "Find the Way" around 1997, a year before his father passed away.
"He had it for four years, but we really suspect he had it much longer than that," Rogers said. "They just didn't notice it."
Rogers used the song to deal with watching his father slowly lose his memory. Rogers was performing at Music Mansion and traveling each weekend to visit his father in northern Georgia.
Rogers recalls one visit where he was talking to his dad before heading back to perform that night at Music Mansion. For Rogers, it is still an emotional topic after all these years.
"He started talking about his wonderful son. He started saying how his son was a very popular singer and loved to write songs, that everyone likes him and how proud he was.
Only he didn't realize I was his son," Rogers said.
"Something like that just grips your heart. You ask God what can I do," Rogers said.
For Rogers, it meant turning to his given talents of songwriting to share the message about how this terrible disease hurts families.
He later talked to Barbara Joines, who was theater operations director at the time, about it when he returned to Music Mansion.
The same day he spoke to Joines about his father, he received a letter from Janice Wade-Whitehead, CEO /President of Alzheimer's Tennessee, about partnering together.
He finished and recorded the song shortly after.
"It became the theme song for Alzheimer's Association in Tennessee," Rogers said. "I wrote it from the heart. You just have to read the words and you can see it."
The song was inspired by his father, but Rogers also watched his mother go through a bout of dementia after his father's death.
She passed away Nov. 10, 2019.
Rogers said he supports Alzheimer's Tennessee because they do a lot for the patients and their families.
"This disease affects the family. It is not something just endured by the patient," Rogers said.
For more information about the event, including to sign up a fundraising team, visit www.alztennessee.org/.

Here are the Lyrics:
Find the Way
By James Rogers
Days are short, time moves slow. The distant look that's in your eyes is one that I don't know. What can you do? What can you say? Oh, it's such a helpless feeling when memories walk away.
Chorus:
Find the way through the night. I'll be the candle in the window, the beacon burning bright. A torch of hope eternal light. Find the way through the night.
Behind the veil locked deep inside. Alzheimer's you're the jailer that steals the dignity and pride from those we love. It's "The Long Goodbye" but together we'll find a way to turn the darkness into light.
Bridge:
Lord, let us face our golden years with golden memories not with fears …
Chorus: Repeat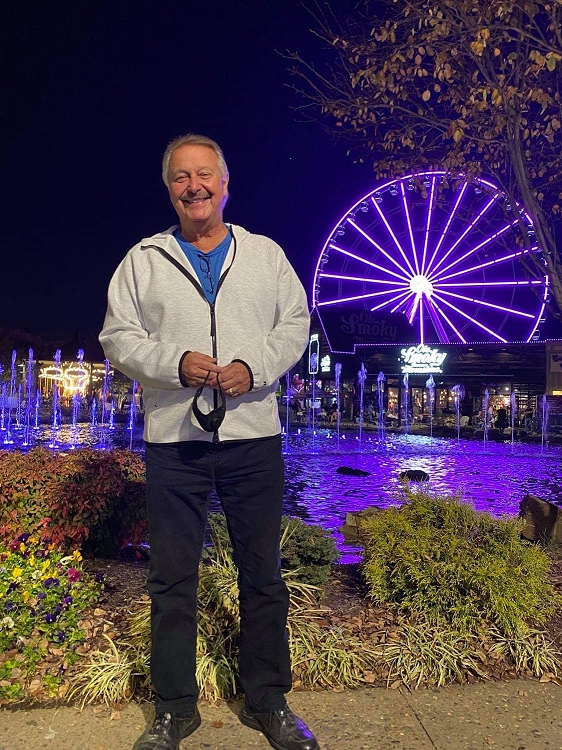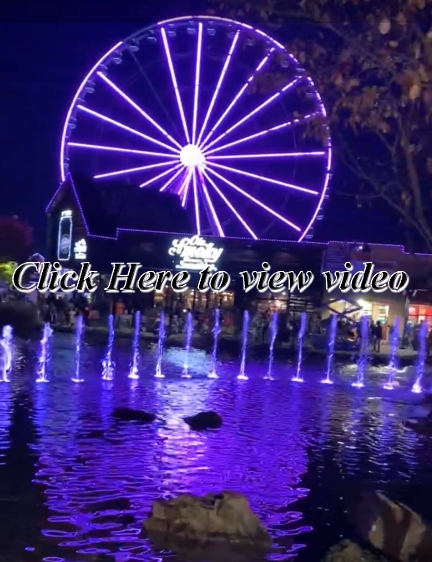 Video-106 MB
Thank you James and Debbie for sharing the pic and video above!!
**********
Many thanks to Kirk Thomas for the pics and videos below!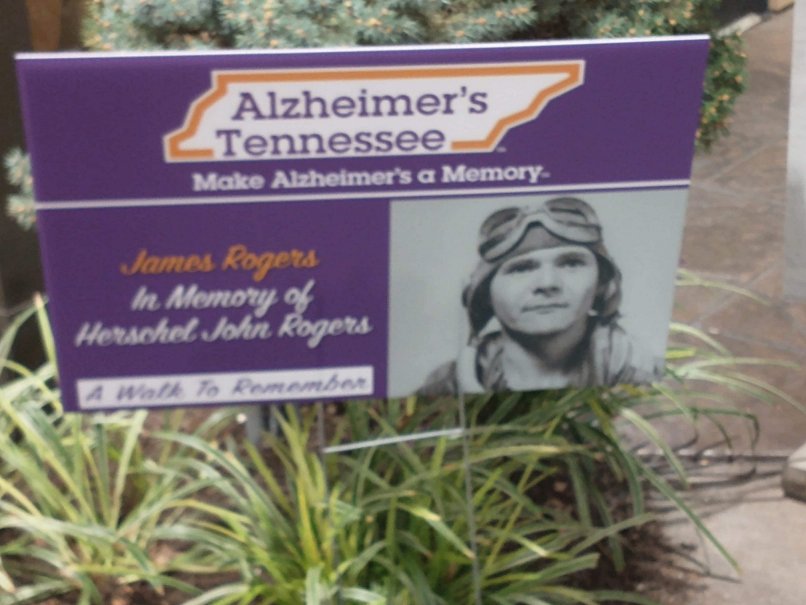 How special and precious that James' Father and Mother were honored at this event!!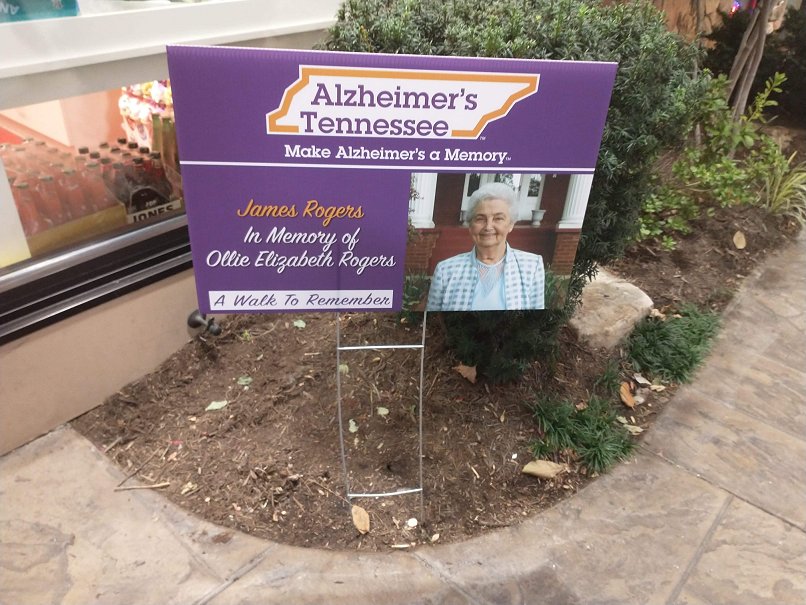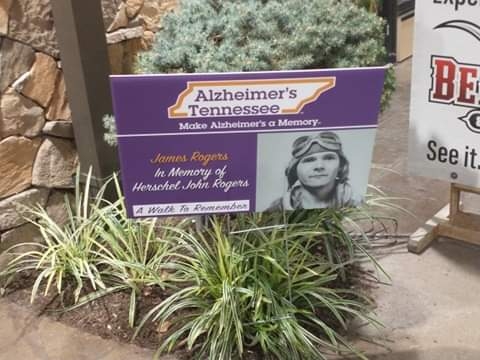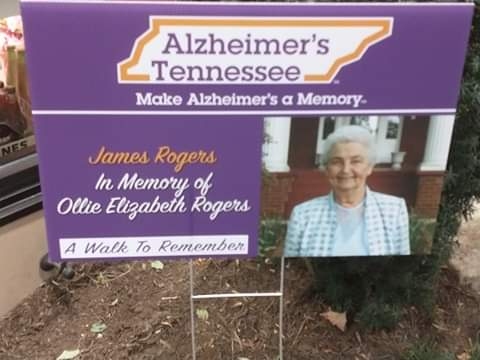 | | |
| --- | --- |
| | |
| Video-49.3MB | Video-10.3 MB |
[FriendsOfJamesRogers-HOME] [SongsAndLyrics] [What'sNew]
Site designed and maintained by
Freda @ OnlyimagineGraphics