HERO IN MY EYES
(James Rogers)
COPYRIGHT 2002 ASCAP
THERE ARE THOSE WHO PUT IT ALL ON THE LINE
RISKING THEIR LIVES FOR YOU AND ME, TIME AFTER TIME
NOT THINKING OF THEMSELVES JUST WHAT THEY GOTTA' DO
AND IN MY MIND IT'S HIGH TIME, SOMEBODY SAID TO YOU

CHORUS:
YOU'RE A HERO IN MY EYES
LOOKING UP TO YOU FOR THE THINGS YOU DO
AND YOUR SELFLESS SACRIFICE
AND IF YOU EVER DOUBT YOURSELF
I HOPE YOU REALIZE
YOU'RE A HERO IN MY EYES
THROUGH THE FIRE -THROUGH THE COLD
THROUGH A THOUSAND UNNAMED TERRORS
WHATEVER MAY UNFOLD
IT'S THE COURAGE OF THE BRAVE HEARTS
THAT WILL SEE US THROUGH
HELPING THOSE WHOSE ONLY HOPE
IS FOR SOMEONE LIKE YOU

BRIDGE:
IN OUR TIMES OF TROUBLE
IN TIMES OF NEED
HEAVEN SENDS HER ANGELS
DOWN FOR YOU AND ME
"Hero In My Eyes"
(music controller below)


WE, the "Friends of James Rogers" want to say THANK YOU to all the folks
who are putting their lives on the line for us in this time of the troubling Covid 19 Virus!

James Rogers wrote this song several years ago in honor of the many
REAL HEROES all around the world...
..well before this tragic pandemic hit the world.
We feel that it speaks well to the
current tragic situation.
THANK YOU ALL!
April 19, 2020
Hero In My Eyes written and performed by James Rogers
**********
********
Also, James has a special message in song for everyone.
(click image below)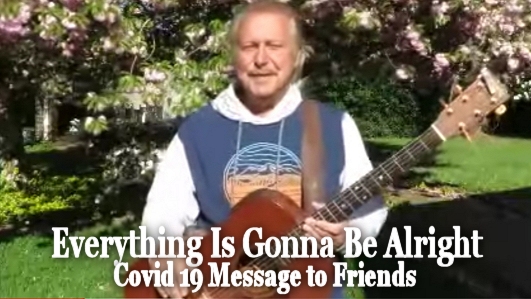 ********
**********
[FriendsOfJamesRogers-HOME] [SongsAndLyrics] [What'sNew]

Site designed and maintained by
Freda@OnlyImagineGraphics
Essential Services Workers
HEALTHCARE/PUBLIC HEALTH
LAW ENFORCEMENT, PUBLIC SAFETY, FIRST RESPONDERS
COMMUNICATIONS, INFORMATION & IT
NON-HEALTH SERVICE PROVIDERS
VULNERABLE POPULATION
SERVICE PROVIDERS
FOOD AND AGRICULTURE
ENERGY
RETAIL
TRANSPORTATION, INFRASTRUCTURE &
MANUFACTURING
CRITICAL INFRASTRUCTURE
SANITATION
WATER AND WASTE WATER
PUBLIC WORKS