Last Summer, I was asked to come and perform for the Fraternal Order Of Eagles at their National Convention in Louisville, KY...
..I opened for Ray Stevens...just like in the old days...we had a great time....
.. and I was so thrilled at the response from the audience when I sang the song that I wrote for them Where Eagles Fly....
This song is their national theme song and it thrills my heart that they really love it so much...
This photo was made outside the event in downtown...Louisville is a beautiful city...being on the road can be tough ... but seeing nice places makes it all worth while.
*****
This photo was taken in N. Carolina...
I was on the way to Andrews to make arrangements for a show there in December...
it was a Welcome to our Pathways Church event and I did not know what to expect...
Pastor Jim and all the wonderful folks made me feel right at home... I love the mountains....
*****
(Click photo for larger view)
Even though I had my annual Home For Christmas Show at the Colonnade in North Georgia the night before..
.. . we drove through the night after that show in order to help wish a lot of
wonderful folks a MERRY CHRISTMAS in my other home town..Sevierville, TN...
we were tired but it was good tired ..
... can you find Waldo...? I am the one with the bue lighted vest on.....

*****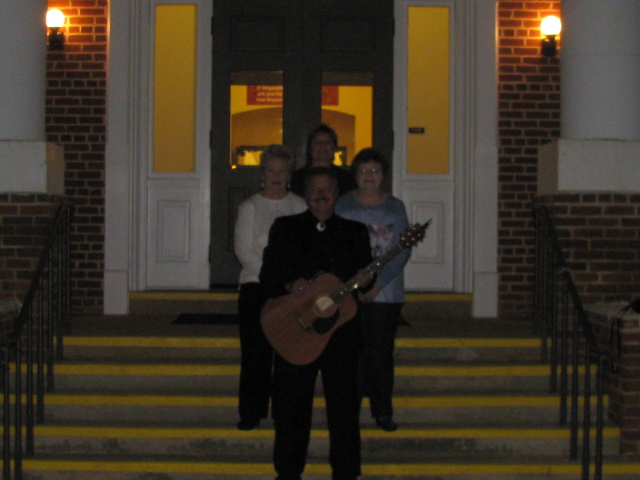 I did a special show for a life long friend...Kay Richardson and the gang
from the Little Mt. Reunion Association invited me down to South Carolina...
It was a lot of fun visiting with old friends and I think we might have made a few new friends that night...
Back in 80's, I was asked to be a guest performer for the reunion...
.. the city buried a time capsule containing one of my cd's...
The cd had a lot of my original songs...but Fly Eagle Fly was the favorite with the crowd at that time...

*****
*AUSTRALIA*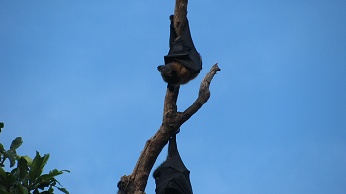 (Click photos for larger views)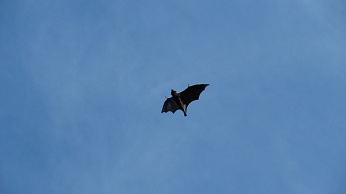 OK... I really had fun in Australia...no we didn't get flooded out...yes, we saw lots of beautiful sites...but I could not get over the critters!...
...call me Ellie Mae...
The flying foxes blew my mind...it was like being in an old Dracula movie...or Indiana Jones...Temple of Doom...or something..
.. .these huge BATS flying all around us...fascinating!
Hey!......"Flying Fox Fly"... you know....to the tune of "Fly Eagle Fly"... NNAAAHHHHH HA HA

*****
(Click photo for larger view)
HERE IS A PHOTO OF ME AND JIM WILMOUTH... HE IS A COMMANDER AND INSTRUCTOR AT
SULLIVAN NORTH HIGH SCHOOL.... IN KINGSPORT, TENNESSEE... HE IS THE MAN WHO INVITED
DEBBIE AND I TO BE CHAPERONS FOR THE SOUTH DAKOTA TRIP...
*****
(Click photo for larger view)
ON MEMORIAL DAY I SANG FOR THE SMOKEY MT.
MEMORIAL THUNDER RIDE...
OVER 2000 BIKES.... WE ALL CAME TO PAY TRIBUTE TO
OUR FALLEN SOLDERS
(Click photo for larger view)
JUSTIN AND JAMES ROGERS
INDUCTED INTO THE SONS OF THE AMERICAN REVOLUTION SOCIETY

IT WAS AN HONOR AND SUCH A THRILL BECAUSE OUR GREAT GRANDFATHERS
DOSWELL ROGERS AND HIS SON WILLIAM ROGERS FOUGHT IN THE REVOLUTIONARY WAR ....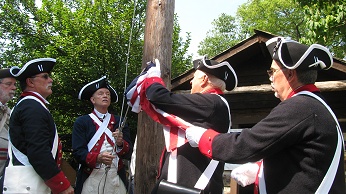 (Click photos for larger views)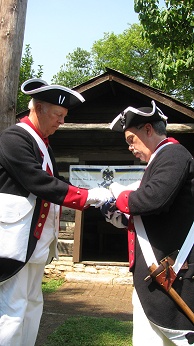 *****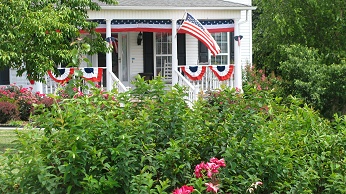 (Click photo for larger view)
James' house..all dressed up for July 4, 2011


************

******************************