Notes From James
EDITION 9

November 13th, 2014


*****

Yesterday [Nov.8-2014] at UTC It was my privilege to sing my song Fly Eagle Fly at halftime
as part of the military appreciation day event.
It was the first time that I was able to do it with the free flying eagle from the
American Eagle Foundation Challenger in my hometown of Chattanooga.
It was a wonderful wonderful moment.
I would like to thank my good friend Dennis Haskins for presenting my dream idea
to the University of Tennessee at Chattanooga for me...what a great friend.
I would like to thank Dr. Jay Blackburn for allowing the idea to proceed
Thank you Ann Wehunt for getting behind the idea as well.
Thank you Dr. Matthew Smith for doing such a wonderful job with the music and with the band they were awesome you are awesome what more can I say?
Thank you Geoffrey Wilcox for all your hard work and hospitality what a great guy
And of course last and certainly not least I want to thank my good friend Al Cecere his family the American Eagle foundation and challenger for coming down just to do this with and for me. You will never know what it meant to me personally. No one has done more to save the eagle than you Al.
This event brings the story of the song fly Eagle fly full circle. It was here that that the song and the dream of saving the eagle took off on a wing and a prayer. My hometown friends applauded me and wished me well .The song became sort of an anthem for helping to save the eagle as well as being a patriotic song about our wonderful nation.
For 40 years I have done all that I could do to help save the eagle . Yesterday I saw an eagle flying over Finley Stadium and over the heads of some of the very friends that had applauded me 40 years ago. And as the eagle soared I knew in my heart that the eagle is now off the endangered species list . The eagle has made a remarkable comeback. And it made me so proud to have been a small voice in the sound track of that story. Way to go America you see we really can work together and accomplish great things.

*****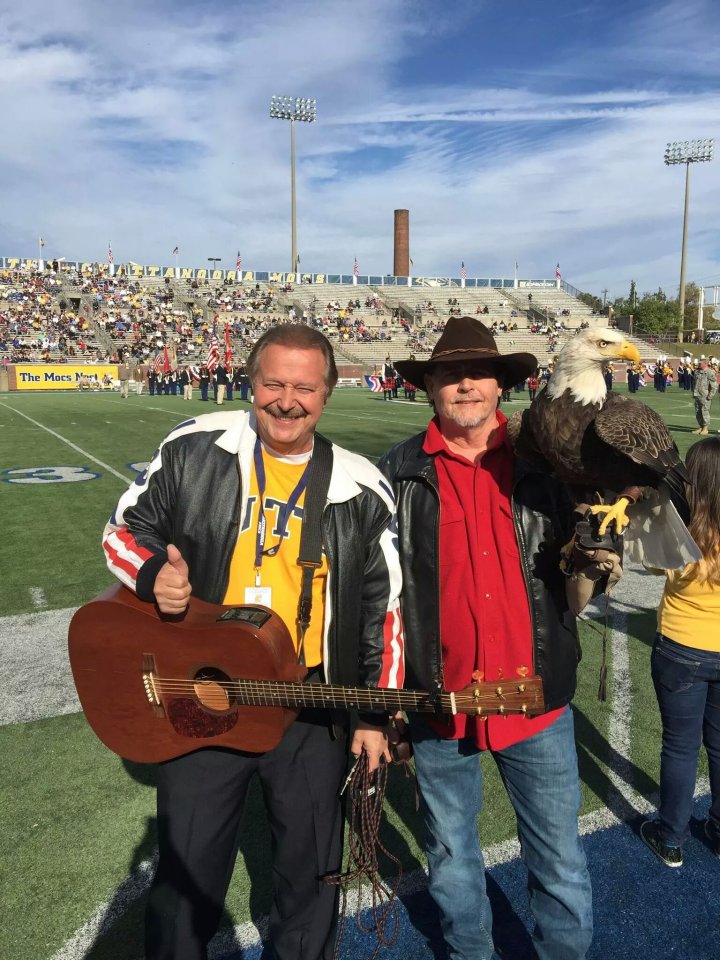 (Click photo for larger view)
THANK YOU AL CECERE
....for allowing us to use your awesome photo on our website!
WOW!
AND FOR A VIDEO OF THAT VERY SPECIAL HALFTIME SHOW, CLICK HERE!
(What a very special event this must have been. I So WISH my family and I could have been there.)

************

******************************