Special Pages
(And Odds 'N' Ends)
*****************
Special things, like holiday or seasonal pages, are sometimes 'old news'
but are still fun to look back on.
Rather than totally remove some of these things, I thought, we'd just have a place to store them for anyone who hasn't had the opportunity to see them yet.
You'll be able to find those particular pages here.

*****************
<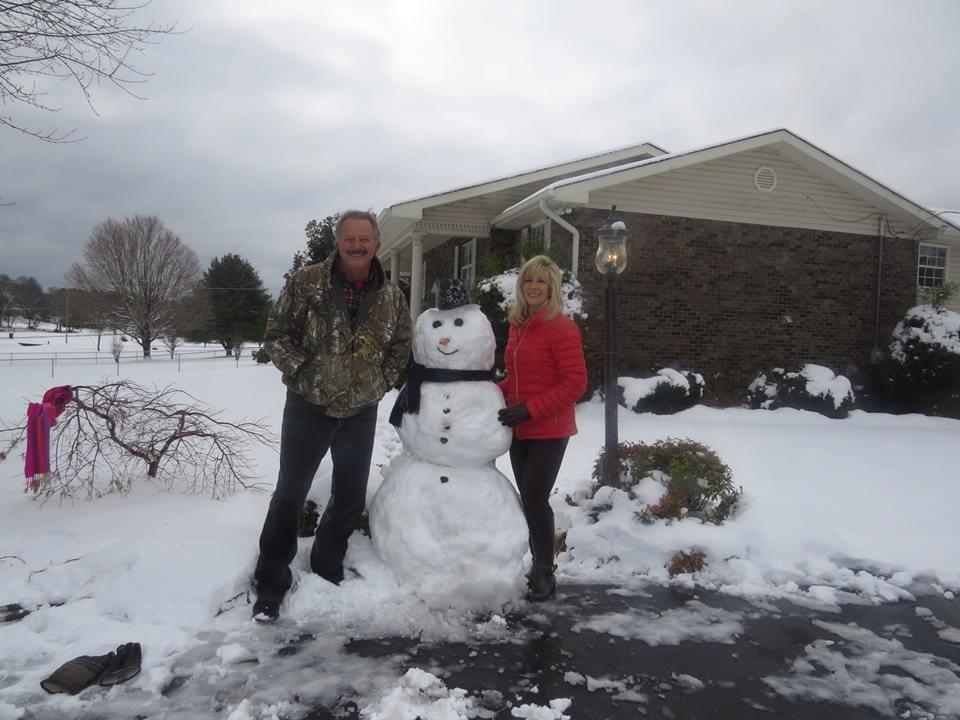 Pop pop and Mimi made a "Mr Snowman" for baby James !
2-26-15
********
<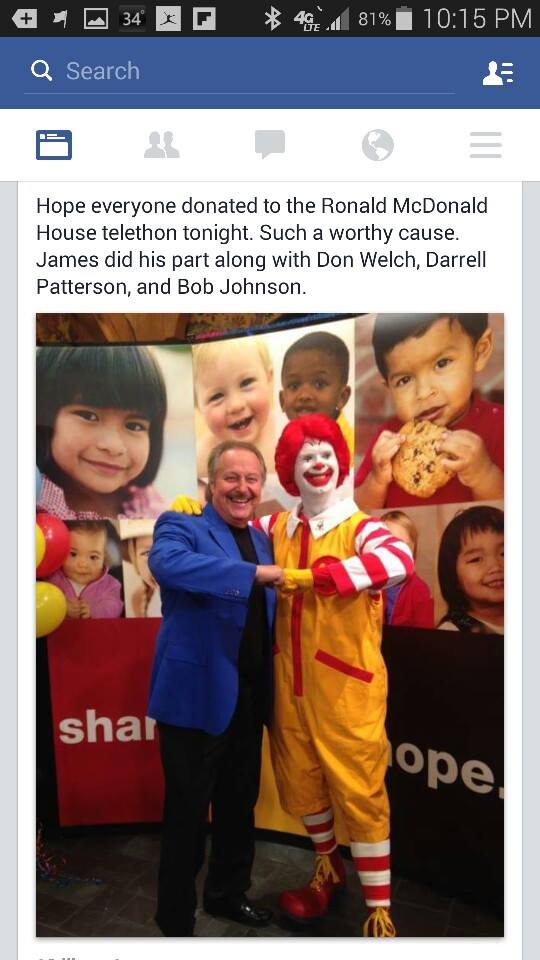 Former Popular Dollywood and Pigeon Forge Musician James Rogers
Will Perform at Chattanooga Ronald McDonald House Annual Telethon

CHATTANOOGA, Tenn. – Feb. 10, 2015- Former Dollywood performer, James Rogers, who worked with Dolly Parton for 27 years,
will be performing at Ronald McDonald House Charities® of Greater Chattanooga annual Telethon airing March 7, from 7 p.m. until 11 p.m. on WTVC.
The reason behind RMHC of Greater Chattanooga's annual Telethon is to thank donors for their past support and to encourage viewers to call-in and make a donation.

RMHC of Greater Chattanooga is celebrating 25 years and wanted to incorporate Rogers not only for entertainment purposes,
but because he is a respected Chattanooga native. In his early days, Rogers played at Music Mansion in Pigeon Forge
where 2,000 seats were nearly full each night.

According to Jane Kaylor, President and CEO of Chattanooga RMHC,
"James Rogers has long been a friend of critically-ill children…entertaining them with his music
and raising funds for a variety of charities that provides services to sick children.
Right before the Chattanooga Ronald McDonald House opened in 1990, James recorded a public service announcement
to bring awareness of and funding for the "House that love built" adjacent to Children's Hospital at Erlanger."

The four-hour prime time telecast hosted by WTVC is part of RMHC of Greater Chattanooga's annual Share-A-Night campaign,
which encourages donations in $55 increments to help pay for a family's night stay.
Families are asked to make a $10 donation to help offset a portion of the expenses;
however, 70% of the families are unable to afford the nominal contribution.
No family is ever turned away for their inability to make the requested donation.
Share-A-Night contributions make it possible for families to stay at RMHC regardless of their financial situation.

The telecast will also have interviews of past families, volunteers, and businesses who've been impacted by RMHC in a substantial way.
The Tennessee La-Z-Boy manufacturing facility will have a "La-Z-Boy Lounge"
that will showcase their donated furniture to RMHC of Greater Chattanooga that will be up for bid that evening.

Turn your TV channel to WTVC-News Channel 9 on the evening of March 7
and see stories motivating the public to believe in the organization's mission
of serving families with critically ill and injured children.
To find out more, contact (423) 778-4300 or visit www.rmhchattanooga.com.

About Ronald McDonald House Charities® of Greater Chattanooga
Established in 1990, Chattanooga Ronald McDonald House Charities provides a "home away from home"
each year for approximately 600 families of critically injured and seriously ill children
receiving treatment at nearby hospitals in Chattanooga. RMHC of Greater Chattanooga is an independent,
501(c) 3 registered non-profit that operates solely on donations from individuals, businesses and foundations.
The cornerstone programs are the 26-bedroom Ronald McDonald House, Ronald McDonald Family Room
located inside Erlanger's Children's Hospital and the Ronald McDonald Care Mobile,
a full medical clinic to underserved, school-age children in Bradley and Polk Counties.
Ronald McDonald House Charities also offers up to 50, $1,000 scholarships to area high school seniors.

We are SOOO proud of you, James Rogers!! You are the BEST!
AND THEY RAISED OVER ONE MILLION DOLLARS!!!
WOW!
<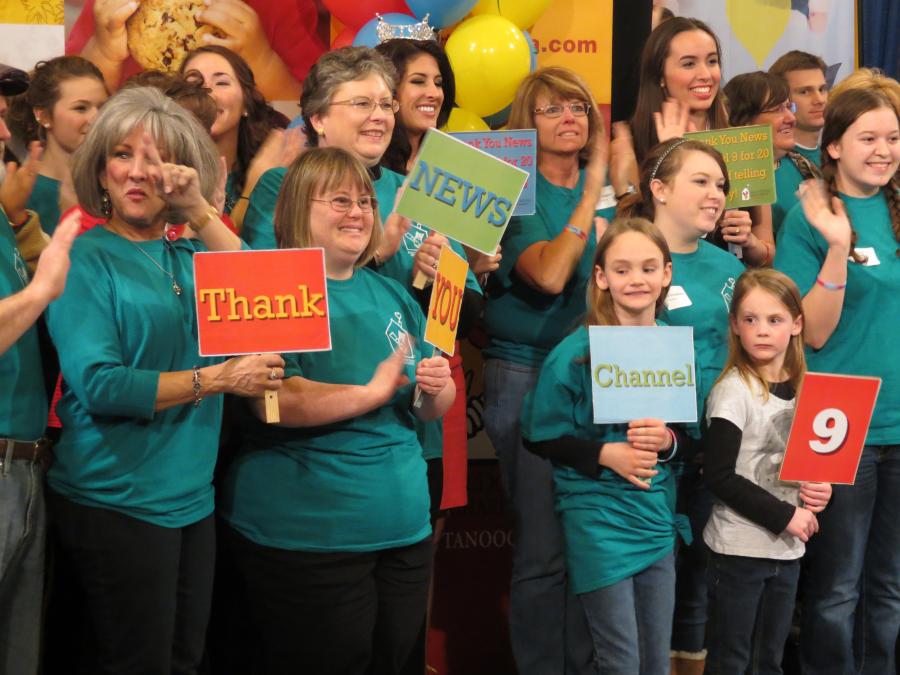 Volunteers holding up signs at the end of the Telethon to show appreciation for News Channel 9.
3-7-15
********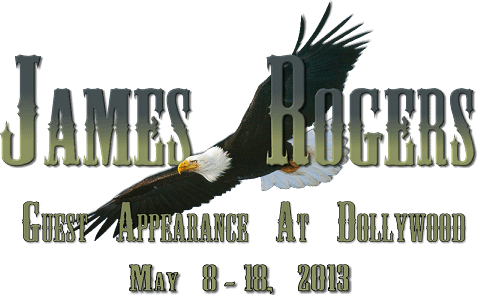 ****
********
James Rogers
RETIRES FROM DOLLYWOOD
Nov. 2, 2012
********
James Rogers at Dollywood-Memorial Day, 2012
(added June 21, 2012)
********
James Rogers at Dollywood-June 13, 2012
From Eileen Anderson
********
James Rogers at Dollywood-May 5, 2012
(added June 21, 2012)
********
James Rogers Opening Day May 2, 2012
(added June 20, 2012)
*********


*********
The Mountain Press about James' 'Song For Norway'.
Just in case you didn't get a chance to see it, you can read it here.
*********
*********
James Rogers-Jacksonville, Florida
James Farewell Performance in Green Bay
Cruise 2012
(Sunday, March 11, 2012)
"Happy Fall, Y'all"
(October, 2011)
'Ride 2 Recovery'-Keene, Texas
Honoring American Heroes in Sevierville
(Sun. May 29, 2011)

Paint You A Song
(Written by Mac Davis....performed by James Rogers)